What began as just another day in the Rachel Maddow, "How low can I go in my conspiracy to steal the Democratic Nomination for the Object of ALL of my POLITICAL Fantasies"...ended with the sounds of the once third-rate excuse for a journalist, pounding on inch-thick bulletproof glass officially separating Maddow from the real world. Her muffled outburst suggested that she might be simply screaming out, "I'M NOT CRAZY!...I'M NOT FUCKING CRAZY!!!!"
It was almost an hour before the thorazine finally took her down.
"I have to hand it to her," one doctor was given to state. "It only took half that dose to put Rick Santorum out for three days".
And, what was it that transformed Maddow from raving, maniacal, Hillaroid, living on the edge as she awaits the impending unsealing of a most definite indictment...into an incomprehensible, babbling, unintelligible LUNATIC, who had to be hauled off and deposited in a locked-ward, in order to prevent harm to herself...or further harm to Bernie Sanders.
On the show that will soon, no longer bear her name; in a time slot that will remain hers for no more than another few weeks...Madcow fucking LOST IT, last night...yet again. Oh sure, it began as it has, so many other nights. Madcow batted her fake eyelashes at a clip of Shillary Clinton bullshitting some other group of people whose names, location, age, or even mental status, was completely irrelevant. She then went on to talk about Donald Trump. But...she wasn't REALLY talking about Donald Trump. Madcow was talking about how whatever Donald Trump was doing or saying RELATED TO SHILLARY CLINTON.
At some point, well into the show, and after not mentioning a word about Guccifer's guilty plea, or the release of deposition transcripts in the civil case against the State Department...OR, the Inspector General's Report, OR, the virtual certainty of indictments...Madcow got around to her nightly bashing of Bernie Sanders.
Even then, however...Madcow was NOT talking about Bernie in the sense of anything that was specifically "Bernie". Here again, Madcow was ONLY CONCERNED with "how whatever was happening to Bernie" WOULD AFFECT Mrs. Rodham-Clinton-Wannabe-Madcow.
The Democratic Primary was being "HIJACKED"...oh, yeah...BY BERNIE SANDERS!
Donald Trump wasn't really interested in "debating" Bernie Sanders. Trump was "SCREWING WITH THE DEMOCRATIC WINNER...BY DEBATING A LOSER".
Since I used up three days worth of my "Fuck" quota during yesterday's rant...I can only suggest that when I heard the tape of the Madcow outburst...I immediately fired BOTH THE AGENT AND THE ATTORNEY who suggested that I would "easily be able to hammer out a week's worth of articles using a maximum of 144 "F-Bombs".
It's an EFFFFFING Presidential Election Cycle. These FOX should have phaqqing KNOWN BETTER! (Testing, 1...2...3...)
So...let me get this straight....and yes, the "YOU" in the following descriptions relates to not only Mrs. Rodham-Clinton-Madcow...but, also the totality of her co-conspirators...and most definitely, Rachel Madcow.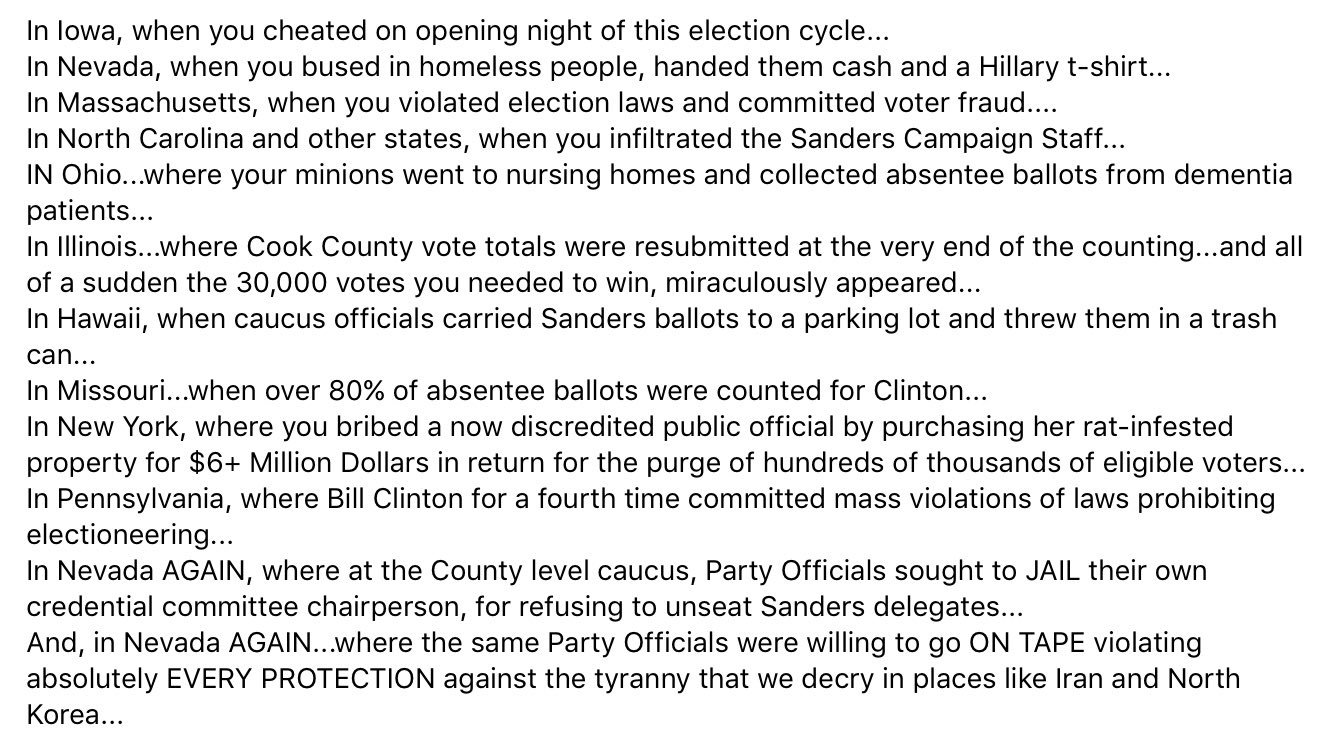 So...when all of those events occurred... Was anyone HIJACKING the Democratic Primary?
When Mrs. Rodham-Clinton-Madcow had her former Campaign Co-Chair, and now head of the DNC, scheduled only six debates, at times and dates that made Billy Mays come back from the dead, just to reject them for his Orange Glo Infomercials... Was anyone HIJACKING the Democratic Primary?
When Mrs. Rodham-Clinton-Madcow REVEALED YET ANOTHER LIE, by backing out of a previously agreed to debate in California...or when she held a New York Debate hostage... Was anyone HIJACKING the Democratic Primary?
Does anyone ELSE believe that MSNBC AND CNN ANNOUNCING THAT COME HELL, HIGH WATER, OR AN UNSEALED INDICTMENT...THEY WILL DECLARE MRS. RODHAM-CLINTON-MADCOW, "THE WINNER" OF THE DEMOCRATIC PRIMARY ON JUNE 7, WHILE THE CALIFORNIA POLLS ARE STILL OPEN, AND WITHOUT ANY CANDIDATE HAVING MET THE PLEDGED DELEGATE REQUIREMENT...might just constitute HIJACKING THE MARTHERFUGGIN' DEMOCRATIC PRIMARY?
Of course, I could go on providing examples of how Madcow and her gaggle of TREASONOUS, soulless, amoral, sociopathic, hedgemonists, have IN FACT, HIJACKED THE DEMOCRATIC PRIMARY...for the entire 96 hours of Madcow's "Period of Observation".
But...truth be told, after you've established your opponent as being unworthy even of your continuing disgust, everything else is pretty much overkill.
It IS, however, necessary to comment on the "SCREWING WITH" remark, aimed at Donald Trump...but still only really relevant to Madcow's commentary, AGAIN BECAUSE OF THE IMPACT OF TRUMP'S ACTIONS...on Mrs. Rodham-Clinton-Madcow.
Trump, Madcow says, is "Screwing with THE DEMOCRATIC WINNER" by latching onto "A LOSER" and engaging in a debate...TO THE DETRIMENT OF SHILLARY.
Rachel... If you can hear me through the bulletproof glass...
WHO IS THIS DEMOCRATIC WINNER?
Multiple representatives of the DNC HAVE APPEARED ON YOUR NETWORK AND TOLD YOU IN THEIR OWN WORDS AND VOICES...THAT YOUR INCLUSION OF SUPERDELEGATES IN YOUR ONGOING DELEGATE TOTALS...IS INAPPROPRIATE.
So...I ask again...
Is including superdelegates in your PLEDGED DELEGATE TOTALS, for the sole and exclusive purpose of DECLARING YOUR CHOSEN CANDIDATE TO BE THE WINNER...WHEN IN FACT THERE IS NO WINNER...AND WHERE THE DNC...THE ORGANIZATION RUNNING THE DEMOCRATIC PRIMARY...HAS TOLD YOU TO YOUR FACE, THAT THERE CAN BE NO WINNER UNTIL THE SUPERDELEGATES ACTUALLY CAST THEIR VOTE...AT THE CONVENTION...
HIJACKING THE DEMOCRATIC PRIMARY?
Which amounts to a more egregious example of SCREWING WITH A CANDIDATE?
Agreeing to debate issues, in advance of the last major primaries?
OR...
Declaring a TOTALLY FICTITIOUS WINNER, AND KNOWING THAT YOUR DECLARATION IS FALSE, BUT MAKING IT ANYWAY...IN AN OBVIOUS ATTEMPT TO SUPPRESS THE VOTE IN CALIFORNIA...AND BRING YOU ILLICIT CONSPIRACY, IN SUPPORT OF MRS. RODHAM-CLINTON-MADCOW...to the final conclusion that was MANDATED by your conspiracy, EIGHT YEARS AGO?
And...while your on ice and being pumped full of more anti-psychotics...ask even your collection of surreality tv star roommates, whether ANY OF THEM would DECLARE SOMEONE THE WINNER of the Democratic Primary...AND NOMINEE OF YOUR PARTY...BEFORE THE FBI AND DoJ HAVE HAD THEIR SAY ON WHETHER OR NOT SHE WILL EVEN BE ALLOWED TO CONTINUE, WHAT WAS A FOOL'S ERRAND...FROM THE START?
You would be on far more solid ground at this point///to DECLARE YOUR IDOL TO HAVE BEEN INDICTED...rather than announcing her as the winner of the Democratic Primary...SINCE THE GRAND JURY WILL ALMOST CERTAINLY CAST THEIR VOTES BEFORE THE FIRST SUPERDELEGATE EVEN ARRIVES IN PHILADELPHIA.
At this point, Rachel...we can't know if Donald Trump and Bernie Sanders will debate in California.
We can EXPECT that you WILL declare Mrs. Rodham-Clinton-Madcow to be the winner of the Democratic Primary before those California Polls close on June 7th.
Here is the $300,000,000,000 Question...
After YOU have HIJACKED THE DEMOCRATIC PRIMARY...SCREWED WITH A CANDIDATE...A PARTY...AND AN ENTIRE COUNTRY...
And, after YOUR HERO is indicted and/or forced to withdraw FROM A RACE YOU HAVE TOLD THE WORLD SHE HAS WON...
Will you apologize to Bernie Sanders, the Democratic Party, California Voters who stayed home because of your actions...the United States of America...and to the world?
Will you resign, on the air in the disgrace you have cultivated?
Will you come back in November 2016, when virtually EVERY DEMOCRAT AT EVERY LEVEL IS DEFEATED...BECAUSE YOU DECLARED A STANDARD BEARER...ON YOUR OWN...WHO WAS ALSO FORCED TO WITHDRAW IN DISGRACE?
WHO GAVE YOU THE RIGHT TO DEMAGOGUE YOURSELF INTO A POSITION WHERE VOTES DON'T MATTER?
WHERE RULES DON'T MATTER?
AND, WHERE YOU ARE, BY YOUR OWN DESIGNATION...THE GRAND DETERMINER OF THE SINGLE MOST IMPORTANT DECISION IN THIS NATION...AND ONE THAT YOU HAVE ABSOLUTELY NO RIGHT OR ENTITLEMENT TO MAKE?
And, what level of unmitigated gall, must a person possess, in order to be AS GUILTY OF TREASON AS YOU ARE, and in the midst of your ongoing bloodless coup...BE ABLE TO EXPRESS THE KIND OF UNRIGHTEOUS INDIGNATION which incorporates the terms "HIJACK" and "SCREW" as part of your incredulous mental meltdown which was witnessed by AT LEAST your six or seven regular viewers.
How about this, Madcow?
How about before you declare ANYONE the "WINNER" of ANYTHING...
You explain to the American People, what YOU are going to do, TO FIX THE UNFIXABLE...when your
GRAVEN IDOL is proven to be nothing more than an unelectable career criminal?
For your consideration,
Billy V.